UPDATE 10/6/17 #2
And then the weather station just started working again 🙂
UPDATE 10/6/17
Well, it's looking like the weather station may have died sometime today.  Dang!  Just when I got everything back  on line, this has to happen.
A new sensor suite, assuming that's where the problem lies is over $300.
UPDATE 9/24/17 #2
THE NEW INFORMATION SERVER IS FULLY OPERATIONAL!
All the old features are up and running again.
joe
UPDATE 9/24/17
Wooot!  Wooot!
Live camera images are now working as well as weather station updates!
Oh, we're having some construction done over the next several weeks so I had to take down one of the two PTZ cameras.
Next up is the weather summary data and graphs on the front page.
joe
UPDATE 9/22/17
Woooot!
After several long hour days, the weather station is back on line.  There is much more detailed information than before available through the "Detailed Weather Info" menu item near the top of the page.  I hope to get the old weather summary and weather images back on the page soon.
Getting the camera images back on line is going to take quite a bit more work because the underlying program structure and interface have changed a lot since the last time I worked on it.
I am pretty thrilled to have gotten to this point!
joe
UPDATE 9/20/17
MAKING PROGRESS!
Working long hours over the last several days on getting the new server set up and for the most part, things are going according to plan.  A couple little hiccups so far but nothing like the roadblock I ran into with the last server attempt.
When you hear somebody talk about a "server" computer, you may think they're referring to a giant power hungry beast of a machine.  The new BigTreesTech server is about the size of a deck of cards and could run on a few AA batteries for hours.  It's called a Raspberry Pi 3 B.
I'm now in the process of getting it communicating with my UPS (uninterruptible power supply) so that when we loose power it will shut down gracefully and come back to life upon power restoration.
Within the next few days i hope to install and configure the software that actually talks to the cameras and weather station.  Wish me luck!  Or better yet… click on the Donate button 🙂
UPDATE 9/17/17
ARGH!
I finally got around to working on getting the new computer setup to take over the duties needed to upload camera images and weather station data.  After many frustrating hours I have come to the conclusion that this computer is not compatible with the weather station.  It cannot recognize its connection and therefore cannot upload the data.
Fortunately, it was not very expensive and I have a known compatible replacement on order.
UPDATE 8/25/17
GET READY FOR SOME CHANGES.
It's looking like we may have a new site administrator taking over, or at least trying it out, in the next week or two.  If / when it happens, hopefully we'll post contact information.
The new admin will have pretty much complete control of the site and some changes will no doubt be made.  If it works out, the site ownership will eventually also be transferred.  There may be some bumps in the road in the near term but hopefully they'll get smoothed out before real weather comes our way!
UPDATE 7/27/17
MORE BAD NEWS
The little computer went back to it's behavior of crashing constantly.  It is now taken apart so I can try to get some of the data off the hard drive.
So, the weather data and camera images will be removed again until I can get a new computer up and running and all the programming done.
Bummer!
UPDATE: 7/26/17
Update to the update…
GOOD NEWS (I hope)
Suspecting a heat issue, I took apart the mini-computer, blew all the dust out of it, put it back together, plugged it in and it's been running steadily for several hours now.  Hopefully that was the problem and I don't have to re-create the software!
BAD NEWS
It finally happened.  The little computer that has provided the weather station and camera images for the past several years has finally died.  So, I guess I have to get back to work on its replacement.  Unfortunately, this is not a trivial task.
In the mean time, since they are not getting updated anyway, I will be disabling the "Live From Dorrington" and "Current Conditions" modules until I can get the new data server working.
🙁
UPDATE: 3/24/17
I have finally found, and changed, the setting that was blocking forum attachments from visitors who were not signed in (like pictures, etc).  Now, all visitors should be able to see content attached to forum posts.
UPDATE: 3/19/17
Finally!!! after hours of study and trial and error, I think I have the login issue solved.  Tomorrow I'll get back to working on the new weather setup.
UPDATE: 3/18/17
Temporary fix… if you use the URL https://bigtreestech.com/wp2013/ your login status might be maintained… working on a more permanent fix.
Whoops… something has made it difficult / impossible to stay logged in.  Sorry about that!
 BigTreesTech is now at https://www.bigtreestech.com/wp2013/.  You may not have to change anything but you may have to log in again.
  After spending over an hour with our web host's tech support yesterday I finally got them to remove the software they had installed that was causing real time images to not get updated on your browser.  After you to a refresh on your browser, you should start getting the updated images.
  In preparation for some major changes I have eliminated the Local Webcams, Lube Room, and Alternate Forums pages.
UPDATE: 3/17/17
BigTreesTech is going HTTPS.  Shortly, the full address for bigtreestech will change from http://www.bigtreestech.com to https://www.bigtreestech.com.  This is for security purposes.  Moving to https will provide end-to-end encryption of your interaction with the site.
If you'd like to help offset the cost of this added feature, click on the Donate button 🙂
Read more about the security issue HERE.
UPDATE: 3/14/17
After many hours of study, trial and error, frustration, and 6 reinstalls of Ubuntu Linux, I have finally got the new mini-computer configured satisfactorily.  I can now re-start work on the weather, camera image, and power outage recovery software.
I hope that with the next week or so I will be able to start posting some sample graphics.
UPDATE: 3/11/17
Major problem discovered today… The new computer won't shut down as long as it has power.  Instead of shutting down it restarts with some major functions disabled.  This is big problem that needs to be resolved.
If there are any Linux experts out there I could really use some help with this!
Breakthroughs today:
 New keyboard up and running (2 others returned to Amazon).
 Weather software is up, running, and tested.
 128GB backup and reserve SD Card now working.
 Have started studying books on the versions of Linux and Python I will be using.
MAJOR UPDATE: 3/8/17
 THE FORUM WILL NOT BE GOING AWAY! 🙂  in fact, I am considering adding "social media" functionality but that will be a ways out.
Making progress with the new mini-computer setup.
I would be interested in your thoughts about the format and content of these websites (post in forum please):
I am tending towards making the front page of BTT very weather-centric with forum / social content on a secondary page.
UPDATE: 3/5/17
Busy day today…
New mini-computer up and running
Linux configured and updated.
Python and associated packages installed and updated.
Weather software and supporting programs installed and configured.
Here's the new development station.  The little box on the right is the new fanless mini-computer.  The green light behind it is a backup USB hard drive.  The computer only burns about 2 watts!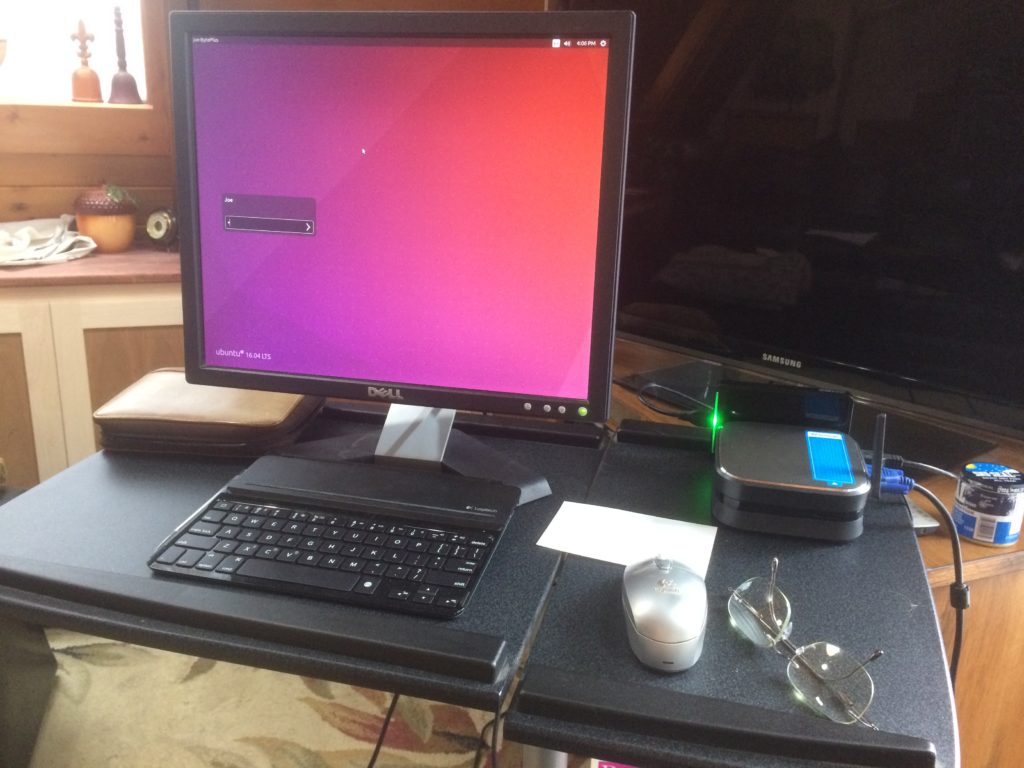 UPDATE: 3/4/17
 I have decided not to make any changes until I get the next incarnation of BigTreesTech sorted out.
The new "mini" computer with completely up-to-date Ubuntu Linux Operating System has arrived.
I've tentatively changed the order of the website upgrade.  I think I'm going to start with the overall layout with the front page more focused on weather and webcam images.
For now, my focus is going to be on re-learning Linux, Python, and the weather station software.  This will be completely invisible to users but is needed in order to take the next steps.
As they say in the music world…
Stay Tuned!
UPDATE: 2/20/17
I have found an attractive new platform for re-development of the weather station data and camera image processing.  It's not a done deal but it looks very promising.
ORIGINAL POST:
As mentioned in the forum, I plan on making some major changes here on BigTreesTech.com.
 The forum is going away.  Over the past year or so, due to an exceptional number of attempted spammer attacks, maintenance of the forum has become a major headache.  I am tentatively planning on eliminating the forum in early March, 2017.  Hopefully someone will step up and create a new community discussion venue.  If they do, I will be happy to provide a link or description of how to join on BigTreesTech.  Once the forum is gone, there should be no reason for registering or logging in.  All the content should be available to everyone.
The webhost that I use for BigTreesTech has recently made some changes that seem to have broken the real time image slideshow.  To correct this problem is going to take a major overhaul of how I upload images and how they are displayed on the site.  I guess I should feel lucky that it has been several years since I had to do any programming for the site but I've also become very rusty.  I will try to get something working during an interval where we're not expecting a lot of snow.
I want to change the amount of weather information provided (more) and how it is displayed.  Again, this will force me to delve into some programming.  I will probably put this off until the threat of severe weather has passed for the season.